Welcome to North Carolina's Orange County Adult Soccer League!
Posted: Friday Aug 11, 2017: We have a few slots remaining in our top division, otherwise our teams are full. Click Register to join the Orangetheory Fitness (top) division, or Send us an email to get on the wait list for the other divisions.
Posted: Saturday Aug 12, 2017: Fall Season Games begin the week of August 14-19. See your player profile for schedules.

Team Tomo vs. Celtic, originally scheduled for Wednesday, 8/16, has been postponed

Posted: Friday Aug 11, 2017: OCASL Foundation is running a 7v7 Benefit Tournament on Saturday, September 2, at Southern Community Park. Visit http://ocaslfoundation.org for details, and register yourself or your team here at OCASL by clicking on "tournament"
Winners: Spring 2017 Orangetheory Division
Division Champions: Soccer.com FC (9-1-0)
Golden Boot: Kevin Rogers - Chapel Hill FC (15 goals)
Best Offense: Chapel Hill FC (46 goals)
Best Defense: Soccer.com FC - (16 goals)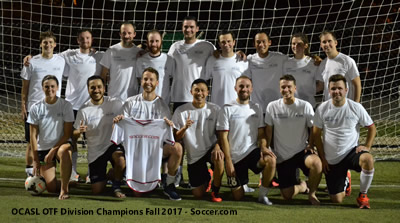 Click the picture to see full sized team photo.
Winners: Summer 2017 Over-30 Division
Division Champions: Motorco FC (8-2-0)
Golden Boot: Felipe Mendoza - Durham FC (15)
Best Offense: Jablonski (44)
Best Defense: Motorco FC (17)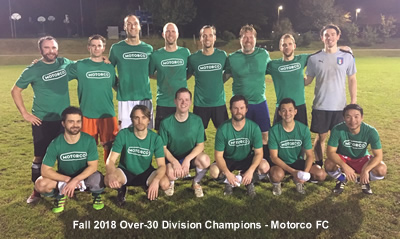 Upcoming Games for Orangetheory Fitness Division
Date
Location
Field
Home
Visitor
Sat Aug 26, 11:40a
Herndon Park
Champ Field
Karmiri FC
Eurosport FC
Sat Aug 26, 1:30p
Herndon Park
Champ Field
Soccer.com FC
Chapel Hill FC
Mon Aug 28, 9:00p
Cedar Falls
CF1
Still Kickin
Red Team
Upcoming Games for Studdard Division
Date
Location
Field
Home
Visitor
Sat Aug 26, 8:00a
Herndon Park
Champ Field
Rose
Carolina United
Sat Aug 26, 3:20p
Herndon Park
Champ Field
T-Birds
Bull McCabes
Sat Aug 26, 5:10p
Herndon Park
Champ Field
Library FC
Global Bankers
Upcoming Games for O'Hara Division
Date
Location
Field
Home
Visitor
Sat Aug 26, 9:50a
Herndon Park
Champ Field
Iron Maiden
Hans FC
Mon Aug 28, 9:00p
Cedar Falls
CF2
Honey Badgers FC
Hilary Chi
Upcoming Games for Over 30
Date
Location
Field
Home
Visitor
Wed Aug 23, 7:30p
Efland Cheeks Comm Ctr
ECCC 1
Motorco FC
Celtic
Wed Aug 23, 9:00p
Cedar Falls
CF 1A
Team Tomo
BSFC
Wed Aug 23, 9:00p
Cedar Falls
CF 2A
Jablonski FC
Durham FC
Upcoming Games for Anderson Division
Date
Location
Field
Home
Visitor
Tue Aug 22, 6:00p
Southern Comm Park
Y1
Artritico Madrid
Stroke City
Tue Aug 22, 9:00p
Cedar Falls
CF 1A
Geri-Hat Tricks
Old Man City
Tue Aug 22, 9:00p
Cedar Falls
CF 2A
Oldcastle United
Timeless Heroes
Thu Aug 24, 9:00p
Cedar Falls
CF 2A
Super Sub FC
Real Mydad
Game Results for this past week:
Date
Teams
Goals
Scorers
Assists
8/16
Durham FC
12
David Alvarez (2), Felipe Mendoza, iain stitt, unk. player(8)
David Alvarez , Jay Linke, Adam Luchkowec, Felipe Mendoza, iain stitt(2)
Retired Affect
1
Paul Christian
Gregory Scott
8/16
Jablonski FC
3
Gregg Adamo(2), Justin Tosco
Motorco FC
8
Nick Adams, Gary Cuddeback, Joseph Feldblum(2), Josh Wittman(2), unk. player(2)
Date
Teams
Goals
Scorers
Assists
8/17
Real Mydad
1
Matthew Tormollen
Oldcastle United
5
Tim Field(2), Remco Laan, William Mills, Michael Stepanek
Rob Klink, Remco Laan, William Mills
Date
Teams
Goals
Scorers
Assists
8/19
Global Bankers
0
Rose
9
Jake Axelbank(3), Martin Bohlen, Nate Crosby, Rosean Frank-Alexander, Suman Kasoji, Paul Myers-Davis, Nicolas Restrepo
Jake Axelbank, Peter Bohlen, Rosean Frank-Alexander, Adam Levinson, Nicolas Restrepo(3)
8/19
Carolina United
4
Kent Donnell, Daniel Lohmer, Zachary Nasipak(2)
Kent Donnell(2), David Dukesherer, Stevi Gallegos, Stephan Hearn
T-Birds
2
Robert Bradford, Ryan Fleming
Ryan Fleming, Michael Gay
8/19
Karmiri FC
1
Joseph Feldblum
Red Team
1
Gonzalo Asis
8/19
Library FC
2
Matt Harkey, Stephen Zablonski
Bull McCabes
3
Mon Eban, Dustin Kavanaugh, Joshua Plowman
8/19
Hilary Chi
3
Tony Jimenez, Charles Shyng(2)
Tony Jimenez, Gavin OHara, Victor Tse
Iron Maiden
4
Josh Cutherell(2), Norbert Odero(2)
Papis Diouf, Christopher Horstman, Frank Mg
8/19
Honey Badgers FC
4
Seokhyoung Kim, unk. player(3)
Internationals
5
Greg Herzog, Kyle Moran, Felipe Segnini(3)
8/19
Chapel Hill FC
1
jackson long
Still Kickin
2
Doug Clark, Zachary Nasipak
8/19
Hans FC
1
James Sadler
Skormor Rangers
5
Bobby Duke(2), Kevin Lee, Vik Williams(2)
Date
Teams
Goals
Scorers
Assists
8/21
Eurosport FC
1
Tyler Johnson
Soccer.com FC
4
Kris Funes, Cole Walker(3)
Date
Teams
Goals
Scorers
Assists
8/22
Artritico Madrid
Stroke City
8/22
Geri-Hat Tricks
Old Man City
8/22
Oldcastle United
Timeless Heroes