Welcome to North Carolina's Orange County Adult Soccer League!
We specialize in adult recreational soccer, and our emphasis is on providing a great soccer experience for our players. We will strive to provide convenient practice and game locations, nice fields, really good referees, and warm sunny days.

OCASL includes people who represent at least 63 countries from around the world of varying nationality, age, race and identity. We believe there is no place for racism, discrimination or intolerance in our league and work to ensure all feel welcome.

OCASL keeps its costs low by utilizing technology, reducing waste, reusing uniforms, all in an effort to make registration affordable. If you or someone you know needs assistance (registration fees or equipment), we can help. First try OCASL Foundation. If OCASL Foundation is unable to help contact us directly by email. We also offer opportunities to play for free by volunteering with OCASL.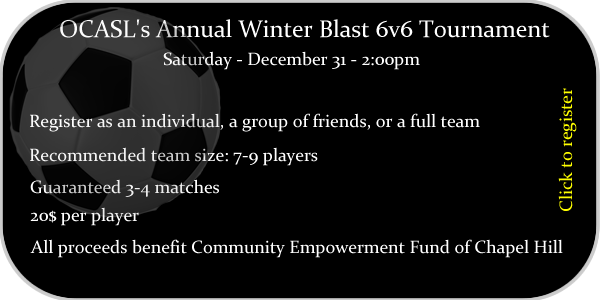 Labor Day 2022
The Labor Day Benefit Tournament raised over $700 for the OCASL Foundation
Champions: Vandalay Industries (winning the gold medal match against Outliers 1-0)



Click the picture to see full sized group photo and action pictures...
Special shout out to our patrons: Alex Funt, Drew Snider and Chris Horstman
Coed Recreational

10 games - Saturdays (all day) and occasional weeknight (9:00)
11 v 11, 3 referees
Practice sessions 3 evenings each week
The best fields in the triangle area
The best referees in the world
$95 registration (games + pickup/practice)
$47.50 discount for goal keepers
Season runs from mid-March to late May
Three recreational divisions (Kaminsky/Studdard/O'Hara)
Individuals, small groups, full teams welcome

Competitive [Invitation only] (Over 30 Division)

$85 Player Fee
$42.50 discount for goal keepers
Games on Wednesdays (9:00)
8v8 small field with keepers
High skill level play
Season runs from mid-March to late May
Free Agent? contact us at info@ocasl.org

Coed Recreational (Anderson Division)

Limited contact
For men over 40 and women over 30
Games on Tuesdays (9:00)
8v8 small field with keepers
Season runs from mid-March to late May
$85 Player Fee
$42.50 discount for goal keepers

Men over 50 / Women over 40

20 games - Monday & Thursday evenings
NO CONTACT
Small field with keepers
$65 registration
Games start mid March

Pickup Only

Pickup play 3 evenings each week
Monday/Wednesday 6:00, Thurs 9:00
2, 3, 4 simultaneous games
Meet people, get exercise, improve your skills
$35 player fee
Season runs from mid-March to late May

No games scheduled this week

OCASL

Sponsors