Welcome to North Carolina's Orange County Adult Soccer League!
Posted: Tuesday Oct 26, 2021: Winter Registration Slots Available:

Open Division (Studdard): 83 56 32

Over 30s - Competitive: 32

Anderson Division (Over 40s): 41 19 7

Over 50s: 30

Pickup Only: 30

Last day to register without a late fee is November 1, but we will probably fill up before then - don't wait.
We specialize in adult recreational soccer, and our emphasis is on providing a great soccer experience for our players. We will strive to provide convenient practice and game locations, nice fields, really good referees, and warm sunny days.

OCASL includes people who represent at least 63 countries from around the world of varying nationality, age, race and identity. We believe there is no place for racism, discrimination or intolerance in our league and work to ensure all feel welcome.

OCASL keeps its costs low by utilizing technology, reducing waste, reusing uniforms, all in an effort to make registration affordable. If you or someone you know needs assistance (registration fees or equipment), we can help. First try OCASL Foundation. If OCASL Foundation is unable to help contact us directly by email. We also offer opportunities to play for free by volunteering with OCASL.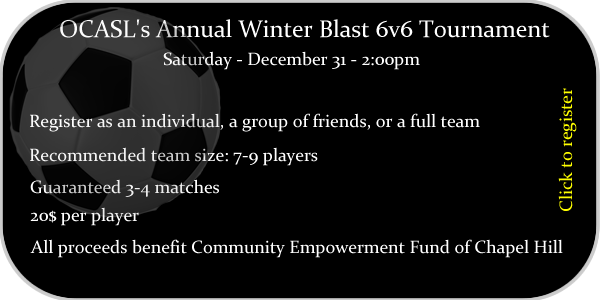 Labor Day 2019
The Labor Day Benefit Tournament raised over $1300 for the OCASL Foundation
Champions: Baby Carrots (4-0-1) (winning their final match against Paul Vaso 4-1)


Click the picture to see full sized group photo and action pictures...
Special shout out to our patrons: Tim Field, Rain Bennett, Brent Arnold, Michael Wright, Alex Talikoff, Patrick McGowan, John Ragosta, Sajad Modaresi, Seth Hopkins, Adam Langino, and Matt Tulchin
Winners: Summer 2021 Anderson Division
Division Champions: Auston Villa (9-1-0)
Golden Boot: Joao Valerio - Auston Villa (21 goals)
Best Offense: Artritico Madrid (67 goals)
Best Defense: Auston Villa (Goal Keeper Ardi Mukenge) (22 goals)


Click the picture to see full sized team photo.
Winners: Summer 2021 Over-50 Division
Golden Boot: Jurgen Sladeczek (23)

Coed Recreational

10 games - Saturdays (all day) and occasional weeknight (9:00)
11 v 11, 3 referees
Practice sessions 4 evenings each week
The best fields in the triangle area
The best referees in the world
$90 registration (games + pickup/practice)
$45 discount for goal keepers
Season runs from mid-March to late May
Three recreational divisions (Kaminsky/Studdard/O'Hara)
Individuals, small groups, full teams welcome

Competitive [Invitation only] (Over 30 Division)

$75 Player Fee
$37.50 discount for goal keepers
Games on Wednesdays (9:00)
8v8 small field with keepers
High skill level play
Season runs from mid-March to late May
Free Agent? contact us at info@ocasl.org

Coed Recreational (Anderson Division)

Limited contact
For men over 40 and women over 30
Games on Tuesdays (9:00)
8v8 small field with keepers
Season runs from mid-March to late May
$75 Player Fee
$37.50 discount for goal keepers

Men over 50 / Women over 40

20 games - Monday & Thursday evenings
NO CONTACT
Small field with keepers
$60 registration
Games start mid March

Recreational Futsal for Adults

* NEW *

7 games - Friday evenings
Homestead or Southern Community Park
$50 registration
Games start March 20

Pickup Only

Pickup play 4 evenings each week
Monday/Wednesday 6:00, Tues TBD, Thurs 9:00
2, 3, 4 simultaneous games
Meet people, get exercise, improve your skills
$35 player fee
Season runs from mid-March to late May

Upcoming Games for Kaminsky Division
Date
Location
Field
Home
Visitor
Sat Oct 30, 11:30a
Meadowmont
MM Large
Rogue Black
Not So Fast But...
Sat Oct 30, 1:15p
Meadowmont
MM Large
Rogue White
Tar Devils S.C.
Mon Nov 1, 9:00p
Cedar Falls
CF2
Rogue Black
Eurosport FC
Mon Nov 1, 9:00p
Cedar Falls
CF1
Rogue White
BH
Upcoming Games for Studdard Division
Date
Location
Field
Home
Visitor
Sat Oct 30, 8:00a
Meadowmont
MM Large
BH
Internationals
Sat Oct 30, 9:45a
Meadowmont
MM Large
Eurosport FC
Noragami
Mon Nov 1, 9:00p
Cedar Falls
CF2
Rogue Black
Eurosport FC
Mon Nov 1, 9:00p
Cedar Falls
CF1
Rogue White
BH
Upcoming Games for O'Hara Division
Date
Location
Field
Home
Visitor
Thu Oct 28, 9:00p
Cedar Falls
CF2
Hilary Chi
Hans FC
Sat Oct 30, 3:00p
Meadowmont
MM Large
Black Sabbath
Honey Badgers
Sat Oct 30, 4:00p
Southern Comm Park
SCP A1
Skormor Rangers
Hans FC
Sat Oct 30, 4:45p
Meadowmont
MM Large
Hot Pants FC
Hilary Chi
Upcoming Games for Over 30
Date
Location
Field
Home
Visitor
Wed Oct 27, 9:00p
Cedar Falls
CF 1A
TBD
Still Limpin'
Wed Oct 27, 9:00p
Cedar Falls
CF 2A
Durham FC
Chapel Hill United
Date
Teams
Goals
Scorers
Assists
10/27
Durham FC
Chapel Hill United
10/27
TBD
Still Limpin'
Date
Teams
Goals
Scorers
Assists
10/23
Internationals
4
Tony DeRubeis, Erik Furseth, Joseph Furtick(2)
Noragami
2
Rubilmer Dominguez, Julio Medina
10/23
Honey Badgers
3
Neyen Romano(3)
Hans FC
2
Suman Kasoji, David Oriettas
Ernie Chilcott
10/23
Not So Fast But...
2
Kevin Whalen[g](2)
Tar Devils S.C.
1
Smith Ngeve
10/23
Skormor Rangers
0
Hot Pants FC
2
Muhammad Kasule(2)
10/23
Black Sabbath
0
Hilary Chi
1
Marlowe Lindsay
10/23
Rogue White
1
unk. player
Rogue Black
1
Joseph Severs
10/23
BH
3
Alexander Leonhard, Adam Luchkowec, Andrew Poeppelman
Eurosport FC
1
Edmund Moseley
Date
Teams
Goals
Scorers
Assists
10/21
Closer to 70 than...
9
Jose Fernandes, ivan maresca, Doug Nuernberger(3), Jurgen Sladeczek, Dan Stern, unk. player(2)
Jose Fernandes, Charles Friedrich, raymond kim, Jurgen Sladeczek
10/21
Internationals
1
unk. player
Tar Devils S.C.
3
Smith Ngeve, Michael Pasca, unk. player